Restaurants often find themselves in a never-ending battle to keep customers coming back for more in the ever-expanding realm of the food and beverage industry. With an increasing number of eating options at their fingertips, modern-day customers have complete freedom. But what's the secret sauce behind those treasured regulars, and why should you cherish them?
Finding new consumers may be a thrilling experience. You might have heard the age-old wisdom that maintaining a single satisfied customer can be more cost-effective than chasing after five fresh faces. But let's take a moment to rethink this interesting concept.
Imagine this scenario: a customer visits your restaurant and spends RM20, seemingly a one-time transaction. But what if that same customer becomes a regular, returning 10 times? Suddenly, your earnings skyrocket to RM200. And let's not forget the power of word-of-mouth marketing; when satisfied customers recommend your shop to their friends, the gains multiply. That's the essence of why nurturing regular customers holds tremendous value.
Now, let's dive into some captivating strategies to ensure your customers keep coming back to your restaurant. Here are some winning ideas:
#1 Give an extraordinary dining experience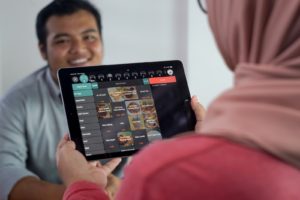 While great food is important, gaining your customer's heart extends beyond flavor. It's about creating a whole experience that includes excellent service, reasonable prices, and excellent hygiene. Consider adding a POS system to help your staff communicate more efficiently and focus on more critical tasks beyond customer service, improving your restaurant's service quality. The end result? Customers not only feel special throughout the dining time, but they also want to come back for more.
#2 Interact with your customers through social media
According to Forbes, 62% of millennials are more likely to become loyal customers merely by connecting on social media. This highlights the powerful effect of engaging with consumers through social media, enhancing their loyalty to your business. It's not just about having a social media presence; it's about actively interacting and communicating with your audience. Without a doubt, social media is the best channel for building such an important connection with your customers.
Using hashtags in your postings is one method for increasing interaction. You can also organize contests or give away prizes to draw attention and reward your customers and followers.
You may also use social media to communicate or provide updates if you have a special deal or promotion so that your customers or followers are notified. You may also share any recent happenings or updates at the same time.
#3 Improve the visibility of your restaurant
Advertising has its advantages, but it typically comes at a high cost and might fall short of keeping a consistent presence in your clients' minds. If you have a regular customer, you can use a Customer Loyalty Program as an alternative to keep engage with them. Give them a coin points or voucher code or even a Birthday Voucher to keep your customer feel appreciated and will coming back to your restaurant.
With Slurp! POS, you can collect necessary customer information when they place an order or settle their bill. ( Psst, It works much better if your clients freely provide their contact information.) With their contact, you can utilize your customer data to offer timely updates, such as revealing an appealing new menu item or a promotion. If you're curious about how the customer's information will appear on your receipt, here's a glimpse of what it might look like.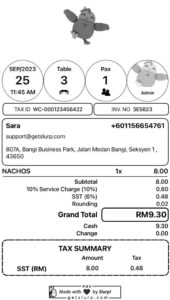 #4 Online Ordering
While not every customer is in the mood to dine out constantly, many opt for the convenience of enjoying a meal at home through takeout. Take advantage of this wonderful opportunity by adopting online ordering. With this seamless alternative, you make it simple for your customers to place orders, establishing a regular and pleasurable engagement with your restaurant.
Using Slurp! POS, we've embraced the cool and efficient Getorders platform for online orders. Getorders makes your business run smoothly by giving your customers the option of doorstep delivery or rapid pickup.
Winning back customers isn't a walk in the park; it's a challenge filled with hurdles. Your customers, however, are the fundamental beginning of your success narrative. Those who begin as one-time visitors might become regular customers if they perceive true worth. The tips shared here are just the tip of the iceberg; the more creative initiatives you take, the brighter your path to success becomes.
Slurp! POS is a cost-effective solution to help you save money and manage restaurant operations more effectively. Get a FREE DEMO today!