Believe it or not, your restaurant's name plays a huge role in your business' success. The name is important for your restaurant's branding and marketing efforts.
A unique and catchy restaurant name can boost brand recognition and customer loyalty. It makes your restaurant stand out in a crowded market and helps customers easily remember the name.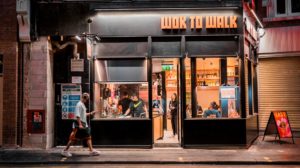 How to choose a restaurant name
There are several aspects that you should take into consideration in naming your restaurant. You can start by checking if they are C.U.R.E.S:
1. Catchy
A catchy restaurant name means it's memorable and easy to recall. It should stick in the mind of the customer so they can easily remember it and recommend your restaurant to others.
2. Unique
A unique name sets a restaurant apart from its competitors and helps it stand out in a crowded market. Do a little research to ensure that the restaurant name isn't already being used by another restaurant.
3. Relevant
The name must accurately reflect the brand and personality of the restaurant. The name should be relevant to the theme, concept, or cuisine of the restaurant. This can help customers understand what type of cuisine and dining experience they can expect.
4. Easy to spell & pronounce
A name that is easy to spell and pronounce is important for customers who want to search for the restaurant online or make reservations over the phone. This makes it easier for customers to find the restaurant and talk about it with others.
5. Short & simple
A short and simple name is easier to remember and pronounce, which is important for word-of-mouth marketing. It also helps your restaurant to achieve the first and second point mentioned above which is to make the name stick in their mind.

In need of inspiration?
We gotchu! Here's some of restaurant names that tick all of the list above and makes them stand out in the Malaysia market:
Teh Tarik Place
Suka Sucre Bistro
Woodfire Gourmet Burger
Hometown Hainan Coffee
Conclusion
In the current age of viral media, the simplest thing like your restaurant's name could make your business bloom and become famous across all borders. More importantly, it helps to develop brand recognition and also customer loyalty to your restaurant.