Apart from a place to have a meal, a restaurant is also where most fond memories are created. First date, anniversary celebration, catch up sesh, you name it.
Therefore, delicious food isn't the only thing that will make your tables full. Customers also look for restaurant with the perfect ambience for dine-in.
Your customers feeling bored can kill their appetite. So check out these 5 simple ideas to keep your guests entertained while your kitchen prepares their order:
Photo booth
Board games
Coloring sheet
Table-side trivia
Live music
1. Photo booth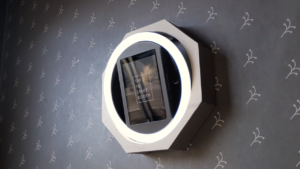 Eating out is never complete without taking pictures; be it a group selfie or food portrait. Setting up a photo booth makes your restaurant stand out from the rest of the town and lures the shutterbugs to visit your eatery.
A photo booth can be an instant marketing machine to promote your business on social media with authentic reviews from your guests. UGC (User Generated Content) is a hype on the internet now. Food reviews and aesthetic contents? They never go out of style. They're also the most searched content across all social media platforms
2. Board games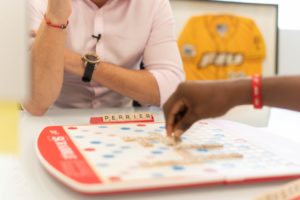 Waiting time at restaurants can be boring. And you know what can combat boredom? Board games!
Board games are a great bonding tool at your restaurant that connects friends and families, across generations. It promotes amusing face-to-face interaction that hypes your restaurant and creates a fun social scene at your restaurant for group get-togethers.
Nevertheless, it's ideal to assign a staff as a game master to supervise your guests if you're planning to provide various types of board games, as different games have different sets of rules.
3. Coloring sheet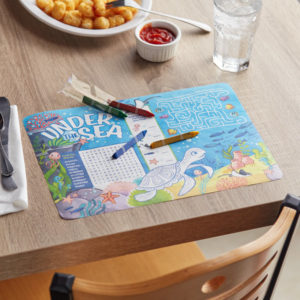 Remember when we were young, coloring used to be our favorite pastime? Why not bring the nostalgia back in your restaurant! You can never go wrong with coloring activity because it is simple yet enjoyable for all age groups.
You can get creative with your coloring sheets. It can be in the form of placemats, table top flyers, or per request if you have junior guests. Apart from being a boredom buster, the coloring sheet can be a medium to promote your menus with fun facts or mind-tickling quotes.
4. Table-side trivia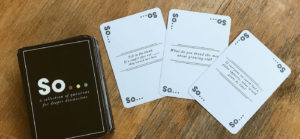 Placing trivia cards on your dining tables is a fantastic breakaway from waiting time because it gets your guests thinking and talking about the answer.
The trivias don't need to be limited to one genre. You can go from wholesome questions to thought-provoking queries about self wellbeing, relationships, society, and even general knowledge. Who knows your guests will exit from your restaurant as better and informed individuals?
5. Live music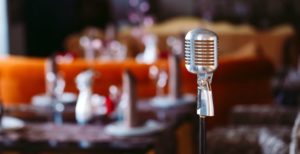 Don't think your menu is the only thing that has main ingredients. Music is also the key ingredient to create an inviting atmosphere to your guests.
The sound of music can be uplifting, relaxing, and even exciting! Pair it up according to your menus to fit the mood and the cuisines. Plus, live music is sort of a noise-canceling feature for the sound of cutleries that may be unappetizing during waiting time and over guest's conversations.
Conclusion
These small touches in your restaurant can leave a great impact on the overall customer dining experience. Just choose any which suits best for your customers and target markets, we're sure it will entertain them and retain more customers!
If you're looking for ideas to achieve exceptional customer experience, our restaurant experts recommend Customer Experience: Stand Out From The Rest