Menu is the first thing that your guests see on the table as soon as they are seated. More than just a list of foods & drinks, it also acts as the persona of your restaurant that greets your guests before tasting your cuisine. 
With the rapid growth of the food business thanks to the Internet, it's now a custom among consumers to search and explore menus online before they decide where and what to eat. 
According to OpenTable, research shows 93% of people read online menus before dining out. Therefore, having a well-crafted online menu is now a must for every restaurant in order to stand out from the rest.
An online menu will attract more potential customers to your restaurant because it gives your brand a wider exposure on the internet. It provides your guests an early look into your offerings and the expected customer experience. This can potentially convert into revenue once they finalize their decision to dine at your place.
There's no other perfect time than now to start creating an online menu or you'll be left behind from the competitors.
On top of that, an online menu can benefit restaurateurs by its ability to improve the ordering system in restaurants. It can speed up the ordering process, increase accuracy, and most importantly, drive sales.
How online menu improves ordering system
1. Speed up ordering process
A physical printed menu requires a waiter to hand it to the guest. Then, the waiter will let them take their time to read the whole menu and its descriptions before they start ordering.
Sometimes during peak hour, guests have to crane their neck to call for a waiter and get their menu. This can be upsetting to the guest when they wait for a long time before someone takes their order and this can tarnish the first impression of your restaurant to new customers.
Nowadays, you can skip this scene with the help of an online menu. Getorders is one of the e-commerce platforms that you can utilize to create an online menu.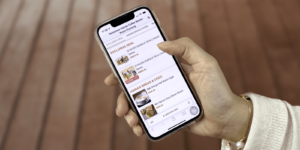 Plus, you can put a QR code on the table and your guest can immediately start checking out the menu to choose their cuisines using Getorders!
Furthermore, it's one burden off your shoulders to explain each dish in the menu due to their eccentric names. A good online menu allows you to put pictures and descriptions of the dishes, thus helping your customers to familiarize themselves and consequently shortens their ordering time.
2. Increase order accuracy
Isn't it a turn off when you're ordering and the waiter informs you:
"Sorry, this item is currently unavailable"

"The price for this item actually has changed to $$"
You can avoid that from happening in your restaurant with online menu's awesome visibility features. With an online menu, you can update menu availability and pricing in a fleet. This way, both side; waiters and guests are coherently informed regarding the menu.
As an online menu usually comes in sets with online ordering, order accuracy is also increased when orders are handled by the smart system. You don't have to worry about miscommunication between guest-waiter-kitchen anymore as the orders are streamlined into one system that displays the exact thing your guests ordered.
Check out this video on how Slurp! POS helps F&B owners with this convenient features in their outlets!
3. Drive restaurant sales
An online menu is something you shouldn't miss out as a tool to boost your sales.
Taylor Kelly on Typsy reported that 97% of consumers search online to find a local business, hence your online menu presence can act as an advertisement for people to notice your business!
When people can see your menu online easily, it attracts them to choose your restaurant as their spot to dine in. This is because people love familiarity. They feel safe knowing what to expect when they come to visit your outlet, thus knowing your menu beforehand will pull them more to order with you.
Also, you can upsell just using the online menu with its extended visibility feature. It allows you to put deals and promotions in the system that excite people to order from your outlet, and when given the right timing, your sales can spike up!
Your sales also increase when reordering is made easy with online menu & ordering. Your guests can just revisit your online menu and add their orders through their device. This utility encourages your guests to order more as they feel convenient from their seamless customer experience and concurrently converts into higher revenue.
Menu is now so much more than menu
Customer demands have changed since the pandemic hit. Restaurants need to offer seamless digital service in restaurants to attract more customers and increase sales. As such, an online menu is a must-have feature in your store!