What is SME Digitalization Initiative?
Slurp! is pleased to announce that it has been chosen as one of the Selangor SME Digitalization Matching Grant's 'Digital Service Providers' (DSP).
In conjunction with Budget 2020, the Ministry of Finance (MoF) is providing grants to Small & Medium Enterprises (SME) to adopt digitalization initiatives in their daily operations.‍
As announced in Malaysia's 2020 Budget presentation, the Government will provide a 50% matching grant of up to RM5,000.00 per SME over a period of 5 years for the subscription of digital services that will enhance their productivity and competitiveness.
Application duration : 15 April 2021 – 15 Mei 2021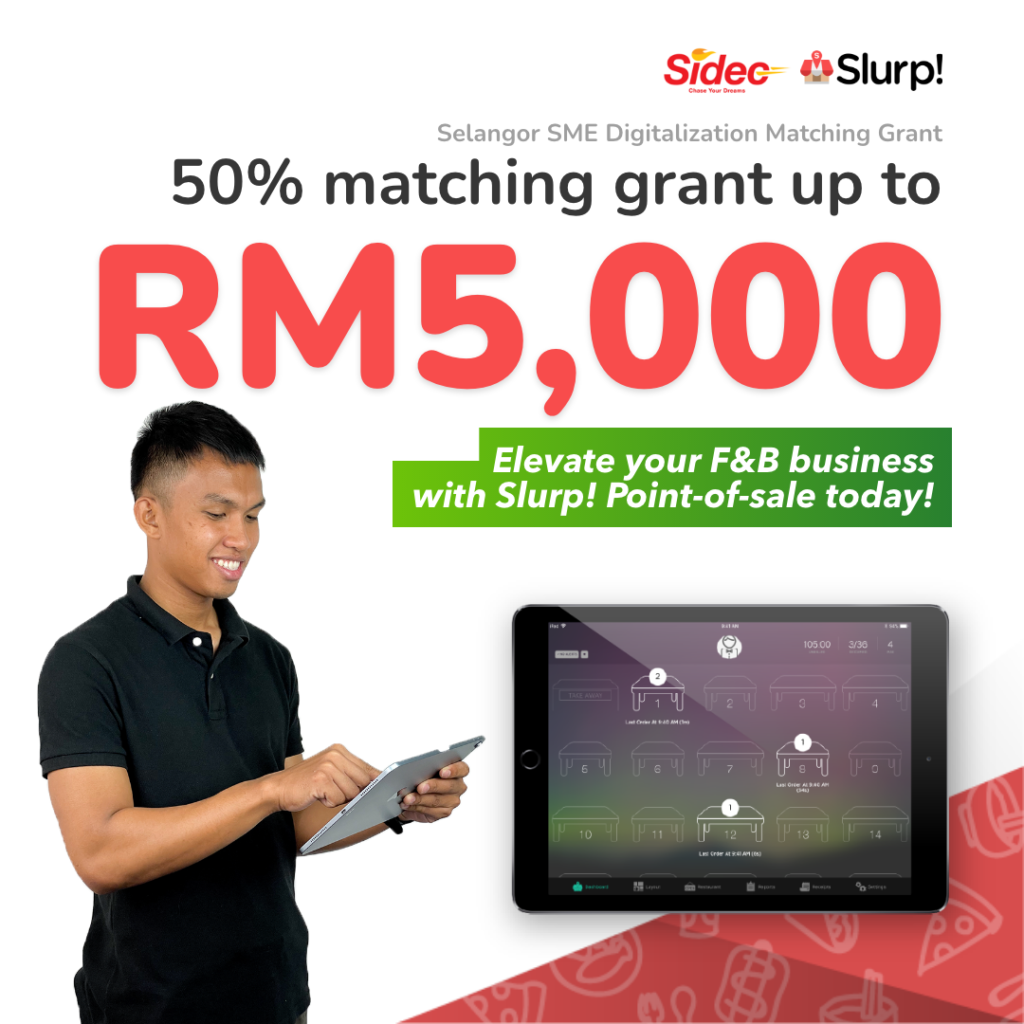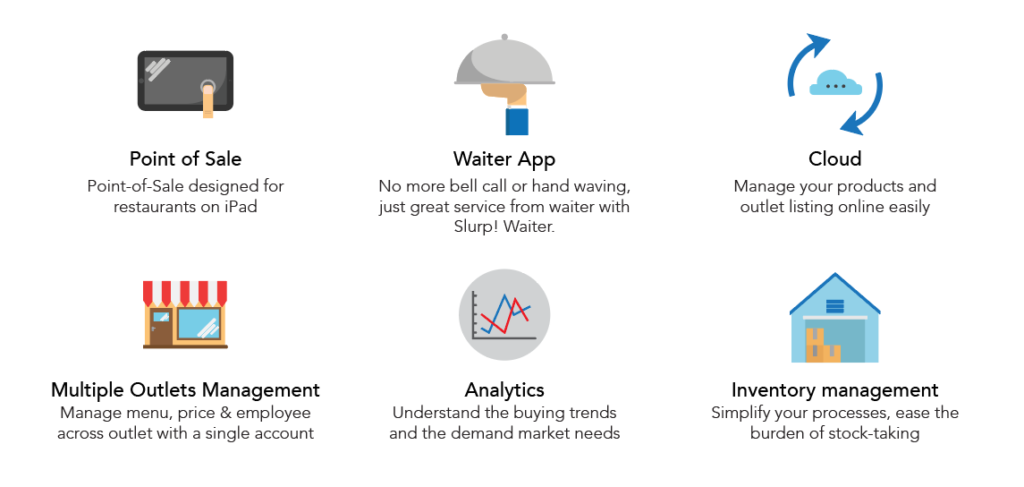 We at Slurp! believe that, particularly in light of the widespread of COVID-19, many merchants would benefit from any assistance in order to continue doing business.
This 50% matching grant would be an excellent business tool for merchants who want to learn how to manage restaurants in an orderly and simple manner using the Slurp! POS system.
How To Apply?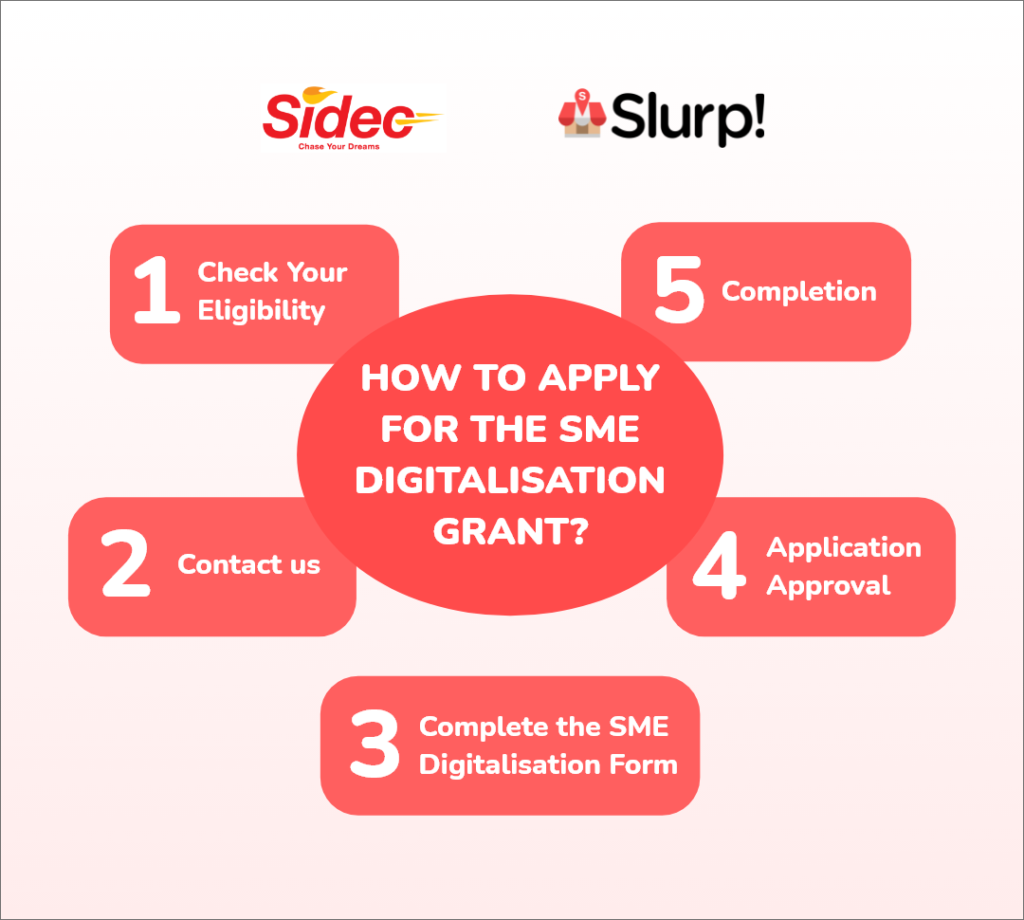 STEP 1 : Check Your Eligibility
• 60% Malaysian owned
• Registered under relevant laws of Malaysia
• Min 1 year in business & RM100k annual sales or
• Min RM50k annual sales (if >2 years in business)
STEP 2 : Contact Us
Contact our team for a quotation on our digitalization services.
STEP 3 : Complete SME Digitalization Form
Download & complete the application form.
Afterwards, send us back the completed form with the required supporting documents (found in the checklist) & we'll assist you with the submission.
STEP 4: Application Approval
Once your application is approved, the SME is responsible for paying the difference of the total invoice after deducting the subsidized amount granted from the initiative for each digitalization service.
STEP 5 : Completion
The bank will then pay the remaining 50% of your total invoice amount, up to a maximum of RM5,000 in one lump sum payment or in stages based on the Bank's discretion.
Download & complete this application form
Ready to go digital? Get your quotation today!
Do contact us if you are interested in this golden opportunity.
Call our Customer Support at +603 2770 2869 or whatsapp us for more details.
---
FAQ
What are the grant details for the SME Digitalization Initiative?
Grant – This matching grant is only available for one (1) application per SME. SMEs are permitted to apply for up to 3 digital services with 1 or more service providers approved by MDEC ("Service Provider").
Availability – Provided by the Government for a period of 5 years beginning from 17 February 2020 or upon reaching 100,000 applications, whichever comes first.
Fees – No fees imposed.
Who is eligible to apply for the SME Digitalization Initiative?
SMEs with the following criteria are eligible and encouraged to apply:
The SME must be at least 60% owned by Malaysian;
The SME must be registered under the relevant laws of Malaysia and classified as SME;
The SME have been in operation for at least 1 year;
For the SMEs which has been in operation for 1 year, the SME is required to have an annual minimum sales turnover of RM100,000.00 for the first year; and
For the SMEs which has been in operation for 2 years or more, the SME is required to have a minimum sales turnover of RM50,000.00 for the preceding 2 consecutive years.
What are the documents required for my application?
A copy of the Identification Card or Passport of Director(s)/Partner(s)/Proprietor(s) of the SME, whichever is applicable;
A copy of the Identification Card or Passport of Director(s)/Partner(s)/Proprietor(s) of the SME, whichever is applicable;
Latest audited financial statements or latest financial management account statement or the SME's bank statement for the last 2 months;
Quotation / invoice for the selected digitalization services from the Service Provider listed by MDEC;
Any other information and documents as and when required by the Bank.
How can I get more information regarding the SME Digitalisation Initiative?
For more information, please contact the numbers below:
BSN (Bank Simpanan Nasional) : 1-300-88-1900
‍SME Bank (Small Medium Enterprise Development Bank Malaysia Berhad) : 03 – 2603 7700